Actually…
Richard had planned to be an architect.
Happy Valentine
All the hearts that you see by the checkouts are for Valentine's Day. You are no doubt familiar with this day: it's celebrated on 14 February and has its origins in the US. In recent years, Valentine's Day has become almost as popular in Europe. You give people you care about presents, like chocolates or flowers. Or you send a card to the one you love. If you want to make it extra special, you can leave it unsigned, so the recipient is left to wonder who could have sent it.


Relocation
Richard was born in Kewanee, a small town in the US. However, it wasn't long before Richard and his family moved to Chicago, where he studied at art school from 1952 to 1956.
The world of the city
In the 1980s, Richard painted landscapes. But they weren't the types of landscapes you are probably familiar with, such as mountains or fields of flowers. They were cities. As the city is also an environment that people look at, we call it a landscape too. The cities Richard chose included Florence in Italy and the French capital, Paris. 
Art without people in it
In Richard's work, there are rarely any people on the streets. If a person is visible, they are nameless and faceless. You cannot tell who is in the painting; the people are anonymous. 
Richard loves Maine
In the 1990s, Richard painted a series of seascapes. He created these paintings on the coast of Maine, right up in the northeast of the US. The coast there is filled with rugged rocks and lighthouses, like a fairy-tale picture book. When Richard is not in New York, this is where he goes.
Twin?
In 1976, Richard produced one of his most famous paintings, 'Double Self-Portrait'. Look closely and you will see Richard twice. You can also see how he uses the reflections in the windows to increase depth in the painting.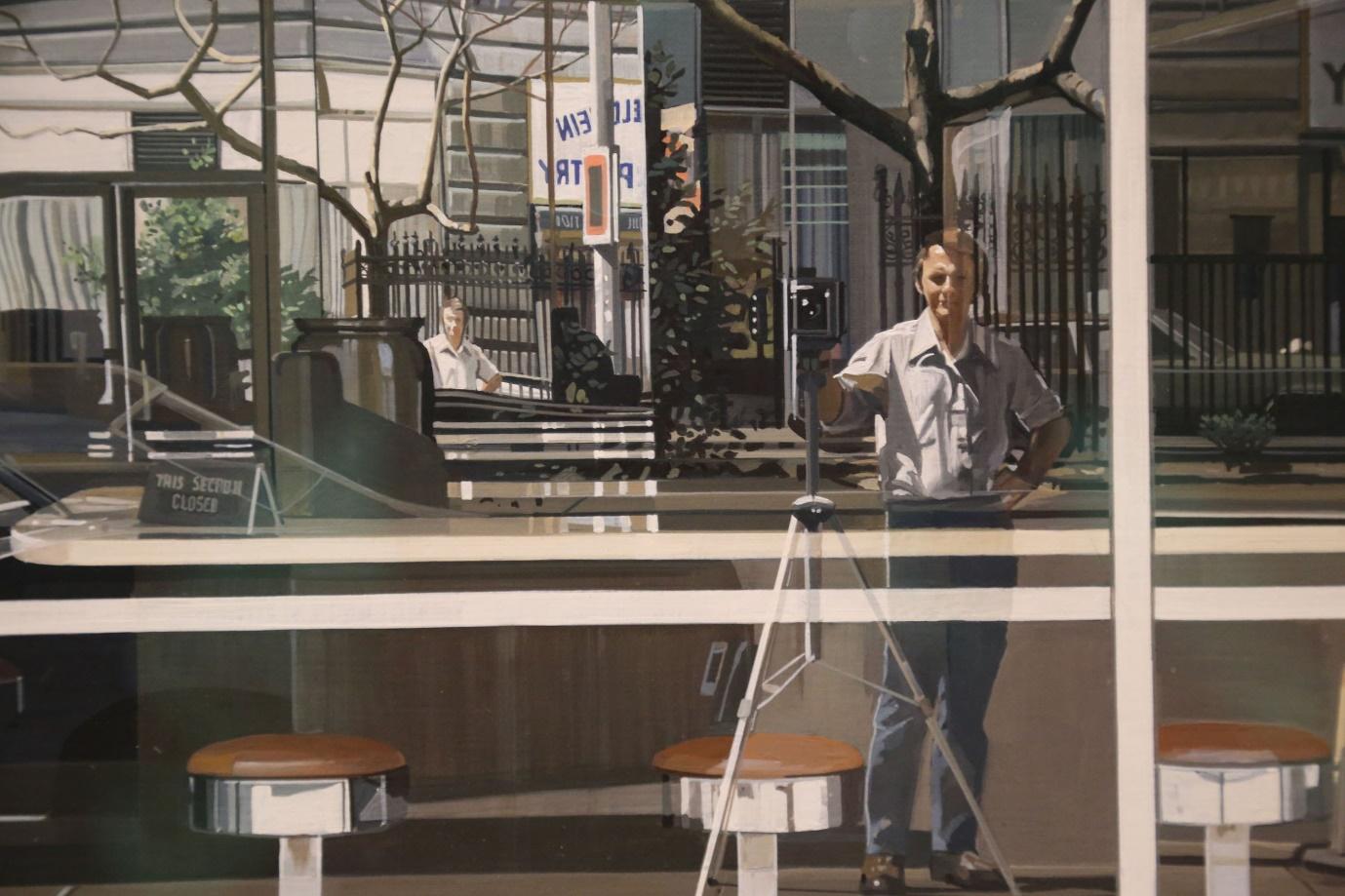 Exaggeration
Richard often exaggerates the little things, the details, by using mirrored objects and reflections.
I spy, I spy, with my little eye...
In Checkout, you can see the alienating effect of mirrors. What do you really see and what is controlled by mirrors? You don't know whether to trust your own eyes. And what's it actually like in this universe, in this little world? It's a mysterious game of directions.
Earning money
Richard spent 10 years working as a commercial artist for publishers in New York and Spain. These publishers gave him an assignment and he set to work. But once he had saved up enough money, Richard started doing what he had always wanted to: create his own paintings.
Richard has been asked to create art…
on behalf of the US on three separate occasions for important art events in Venice and Basel. That was back in the 1970s.

Which artwork could you write a story about?